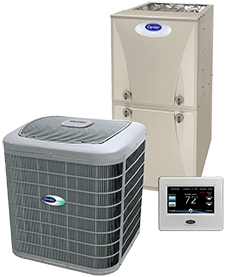 JTR Heating & Air Conditioning's Rebates On Qualifying Purchases
Heating, refrigeration and air conditioning works can be expensive, but since they are essential for comfort and health of the people who work and live in those premises, we are offering rebates on qualifying purchases to ease your burden. A family owned business, JTR Heating & Air Conditioning has been providing heating, air conditioning and refrigeration services to residential and commercial areas in Peotone, Joliet, Orland Park, Tinley Park, Frankfort, Mokena, New Lenox, IL area. With so many years in business, and even a Carrier President's award for outstanding service provision, twice, this company has perfected the art of preventative maintenance, repair and installation of HVAC equipment; inclusive of refrigerators, heaters, ducts and air conditioners.
ComEd & Utility Rebates Available!
Save Money & Call today for more information!

Government Tax Credits
Save Money & Call today for more information!

JTR Heating & Air Conditioning services
For over 25 years, JTR Heating & Air Conditioning has installed, repaired and maintained all kinds of heating, ventilation, air conditioning and refrigeration equipment in residential and commercial premises, in Illinois area. Before installation of any equipment, the company sends technicians to assess the situation and give a quote on the best energy-efficient equipment and installation works. The highly trained technicians, then, proceed to install the needed equipment. In addition to installing new equipments, this company conducts repairs on HVAC equipments as well as regular maintenance to ensure equipments functions optimally and do not consume more energy than needed.
Upgrade HVAC systems
Regular maintenance of your HVAC equipment can prolong its life, give you the best the equipment can offer and save on energy, hence money. However, maintaining an already energy-inefficient equipment that has already been worn out, does not make sense. Such an equipment would need a replacement, and the sensible thing to do would be to replace an outdated HVAC system with an energy efficient one. More energy-efficient HVAC system upgrade gives you peace of mind in knowing your equipment will not break down suddenly, and that you will save costs in energy. This upgrade can also be subsidized by our rebates, to avail you what you need most while saving money, and that is why you should regularly check the rebates offers we have from time to time.
Conclusion
You can get our rebates on qualifying purchases from JTR Heating & Air Conditioning, where they have more than qualified technicians to handle any and all your HVAC needs. This company conducts HVACR (heating, ventilation, air conditioning and refrigeration) replacements, upgrades, repairs and new installations. While we do not have everyday offers, we give Spring and Fall rebates to help you upgrade HVAC systems. For more information on current and upcoming rebates, kindly call JTR Heating & Air Conditioning, any time of day or night, at 708-298-8694.
---
Also, be sure to check out our current special offers to save the most on your new HVAC system.